ED: We asked David to put some words together reflecting on his 63 years in the club. Here they are…
At the start of the Centenary Year, the committee have asked if I would accept Honorary Membership of the club, which I was delighted to accept, and as President write something about my many years in Clayton-le-Moors Harriers
I joined the club in 1959. I had run for Lancashire Schools and won various local Youth Club races in the Burnley area. Stan Bradshaw called and talked to my mother about me joining Clayton. Two weeks later he called again to talk to her and that evening she asked me why I had not joined. I said that I only had 5/- (25p) pocket money a week and couldn't afford the bus fares. She said that she would pay them, so the next Saturday I caught the bus to Padiham, where I waited on the Town Hall steps to be picked up by Stan in his red Volvo to go to the Club Run. These were held from Working Mens Clubs in the local area, 3 of them in Clayton. Over the next months I would look across the room where we were changing to the Senior Men. 4 of whom were to become my idols – these were Stan Bradshaw, Alan Heaton, George Brass and Alistair Patten. Their running achievements were the stuff of legends, including the 3Peaks (more of that later). It would have been impossible to imagine that I would ever be President, as most 16-18 yr olds never think so far ahead and how life will turn out.
I have loved running since I was a small boy when I ran everywhere. I think that I started training for the Burnley Grammas School Sports Day aged 14. Even now I still enjoy training and racing. If it is a running day I go whatever the weather, although since retiring I might delay by an hour or two if it is supposed to stop raining! In 1985 along with Eric Birtwistle, we decided to see if we could run every day for a year. We did, and I continued for 5yrs 29 days until I badly twisted my ankle in the Stanbury Fell Race and it swelled to twice it's size. For once I used my common sense and rested as far as running was concerned. As a member of the club, I enjoy the camaraderie and the banter, and even the 'abuse' from various friends. Only older members may remember my 'black' tracksuit, which after numerous washings over the years became a dark brown and was frequently mentioned in the monthly Clem News, which always caused a smile, Even my black shorts were criticised, especially by Jim Dawson, who used to write that they'd been made out of 'blackout material' left over from the war!!
The following are just some of the club and team achievements in which I've been involved. We were the first club to run a relay on The Pennine Way in 1970 and whenever I look at the photo of the 24 of us on the green at Kirk Yetholm it brings back many memories of that weekend. In the Calderdale Way Relay as O40 Vets. we were dominant for several years, winning 3 times consecutively in '87 '88 and '89 for which I organised a special sweatshirt with the dates, to mark the achievement. In later years I've been a member of Clayton teams in the British Vets. Road and Cross Country Relays in which we've won Gold, Silver and Bronze medals with some super performances.
I ran my 1st Three Peaks in 1965 and then from 1967 I ran 49 consecutive races. My best time being 2hrs 59mins. One year we finished 3rd team – prize, a toast rack! Looking back to 1965 I doubt that I ever imagined the part the 3 peaks race would play in my life. Unbeknown to me, my daughter who lives in Denver organised a new 'David Scott Trophy' in the form of a glass decanter to be presented to the oldest finisher on the day, male or female. In 2015 I was very proud to be it's first recipient and 4 years later was equally proud to present it to Wendy Dodds, as the oldest finisher that year.
From a personal point of view I set myself some targets when I reached 40. These included running from John o' Groats to Lands End in 20 days – not consecutively I might add (ED: trail blazing an early virtual challenge?) and then the following year cycling back in 2 periods of 5 days; climbing all the Wainwright Peaks in the Lake District; and running the Pennine Way in 6 days. (ED: Dave went on to achieve all of these challenges).
Other earlier 'one day' adventures included running the Welsh 3000 footers with Alan Heaton, leaving Burnley at 2a.m. and returning after an epic day 24 hours later; the Lake District 4 times 3000 ft peaks race with John Haworth; soon after doing the County Tops and I remember climbing up Scafell Pike behind some hikers and laughingly I asked them if this was 'the way to Hellvelyn as that was our next summit?' A big 2 day epic was running across the Grand Canyon from S to N and running back the next day. That night Jill and I slept in separate beds in separate cabins separated by the Grand Canyon! And as my daughter lives in Colorado, I've climbed 30 of the 54 14,000 footers, but alas, age has caught up with me!
So many memories, mentioned above, came about by being a member of a club and the extra dimension it brings after completing any event, whether you've been successful or not, that there is always someone to share the highs and lows.
Clayton-le-Moors is a special club of which I have always been proud to be a member. Here's to the next 100 years!!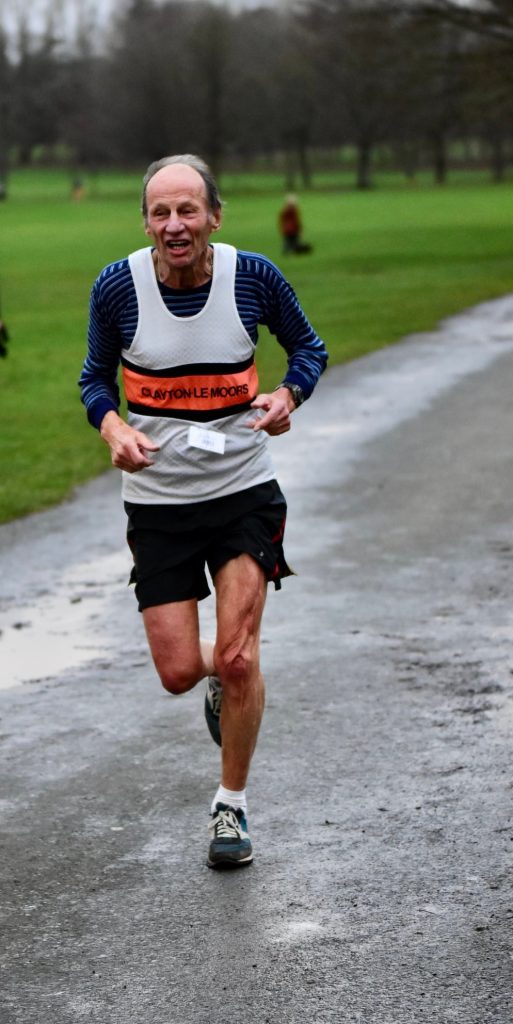 David pushing hard – Parkrun New Years Day 2022
Picture by David Belshaw.