Saturday 25th September 2021
Category AS – 4.3miles/7 km with 1310'/400m of climb at 11.00 am
Minimum age 14 (on day of race).
Unfortunately there are no junior races this year but we hope to bring them back for 2022.
Senior results 2018. Junior results 2018. Results 2017. Junior results 2017. Results 2016.
Thieveley Pike Fell Race – 11 am
Registration:  St John's Church Hall, Holme, Chapel-in-Cliviger, near Burnley, BB10 4SU. Grid ref: SD875285. Minimum age 14 years on the day of the race. Entry fee £6 or £7 for non FRA members.
Entries via SIEntries by 6pm 24th September 2021 – NO entry on the day. https://www.sientries.co.uk/event.php?event_id=8636 
Records: Men: R. Hope – 30:44 (2006) Ladies: N. White – 35:41(2006). Results for this year's race will be published on this page.
Kit Requirement: A decision will be made on race day. Runners are asked to bring full waterproof body cover (ie covering the torso from head to ankles) as this may be required.
Route: AS 4.3 miles (7km) with 1310' (400m) ascent. The course is flagged and marshaled. Download GPX file.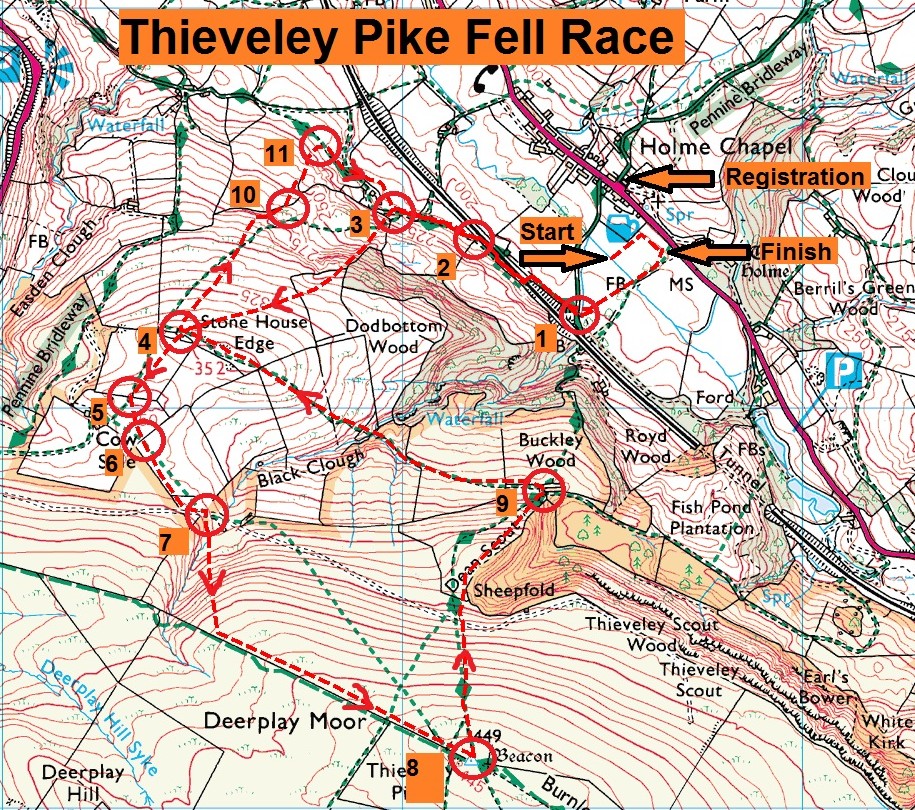 Start: In the field next to the Ram Inn, across the road from the village hall about 100m along the road towards Todmorden.
Route Description: From a boggy field beside the Ram Inn, Cliviger, the race follows the Mary Towneley Loop to Scout Farm where a sharp left takes you up a mercifully short, ridiculously steep climb to the moor, which levels off towards a ruin at CP4. After crossing a couple of fields it's back onto rough moorland for the climb to the Pike, steep at first then it eases as you follow the fence to the trig point. A fast grassy descent precedes a shorter, technical drop to the fell gate. Then you battle through a young plantation before a steep 'sting in the tail' brings you back to the ruin. A second grassy descent leads to the bridleway for the last push to the finish in the field where you started.
Prizes: First five men and first three ladies, 1st U19 man and 1st U19 lady (ages at 31st December 2021). Veterans: 1st in 5 year age categories.
Parking
Please leave the area in front of the school free for emergency vehicles. Later arrivals can park on the road in the Todmorden direction, or in the village. Make sure you don't block access to properties and gateways. Please avoid parking on the Ram Inn car park, unless you intend to patronise the pub.