Saturday 11th May 2024 at 11.00 am. Category AL. 14 miles / 4100 ft.
Minimum age 18 years on race day.
The 2024 race is a counter in the English Fell running championship.
Entries via SI Entries from early March 2024. £15 FRA members / £19 non FRA members.
Championship entry system applies. Limit 400 runners.
Registration in Downham Village Hall 100m South and up the hill from the centre of Downham BB7 4BJ. Allow 15 min walk from car parking which is likely to be on a flat field. Please car share and follow signs and marshals instructions.
Held under UKA rules and registered with the FRA. This is an 'AL' category race and full FRA mandatory kit must be carried. Kit must be brought to registration for checking. NO KIT – NO RUN. Runners without kit at the finish will be disqualified.
Checkpoint cut-offs will be implemented at the points marked on the map below. Runners arriving at checkpoints after those times will be deemed 'out of the race' and must return directly to the finish.
Records: Men – Tom Brunt 2.04.20 (2012). Ladies – Jean Brown 2.31.00 (2013). Results for this year's race will be published on this page. Results from previous years.
Prizes will be awarded to:
1st 2nd 3rd Male and Female
1st U23 Male and Female
1st V40 Male and Female
1st V50 Male and Female
1st V60 Male and Female
1st V70 Male and Female
Route
Starting from the picturesque village of Downham the challenging route is flagged across fields to the fell. Once on the open fell runners can choose their own route to the nine checkpoints which they must visit in order. In doing so they will run through seven of Pendle's Cloughs: Burst Clough, Mearley Clough, Ogden Clough, Deep Clough, Churn Clough, Ashendean Clough and Boar Clough.
The route covers sections of Pendle that are seldom visited and takes runners over some of the high, rough and in places trackless moorland terrain, with steep ascents and descents, including loose stones, mud, peat and rough grass / dead bracken. The crossing of Deep Clough beyond CP4 involves a traverse of steep and loose shale which can be avoided by ascending directly up from CP4 and across the top of the clough by Deep Clough spring
After navigating round the hill for 12 miles the final two miles gives runners a chance to really 'let go' as it's all downhill to the finish!
Overall, the position of the checkpoints offers some interesting route choices and certainly forms much of the discussion in the pub afterwards!
A map showing checkpoints and grid references and cut off times, to a scale of 1:25000, can be viewed / printed below.
| | | | |
| --- | --- | --- | --- |
| Start | Downham Village | SD785440 | |
| CP1 | Stream crossing, bottom of Mearley Clough | SD783411 | |
| CP2 | Boundary stone | SD787404 | |
| CP3 | South side of wall corner, bottom of Big End | SD809418 | Closes at 12.25 hrs |
| CP4 | Knoll, north side of Deep Clough | SD806405 | |
| CP5 | Between track walls, Stainscomb | SD796384 | |
| CP6 | Knoll, bottom of Ashendean Clough | SD777396 | Closes at 14.15 hrs |
| CP7 | Top Pendle Way stone marker, Boar Clough | SD798398 | |
| CP8 | Robin Hood or Foxes Well | SD804420 | |
| CP9 | Road crossing | SD798432 | |
Walls or fences must not be climbed, but crossed at appropriate points. Do not cross private land or the out of bounds area on Downham Moor as shown on the map. Follow the flags in the flagged sections.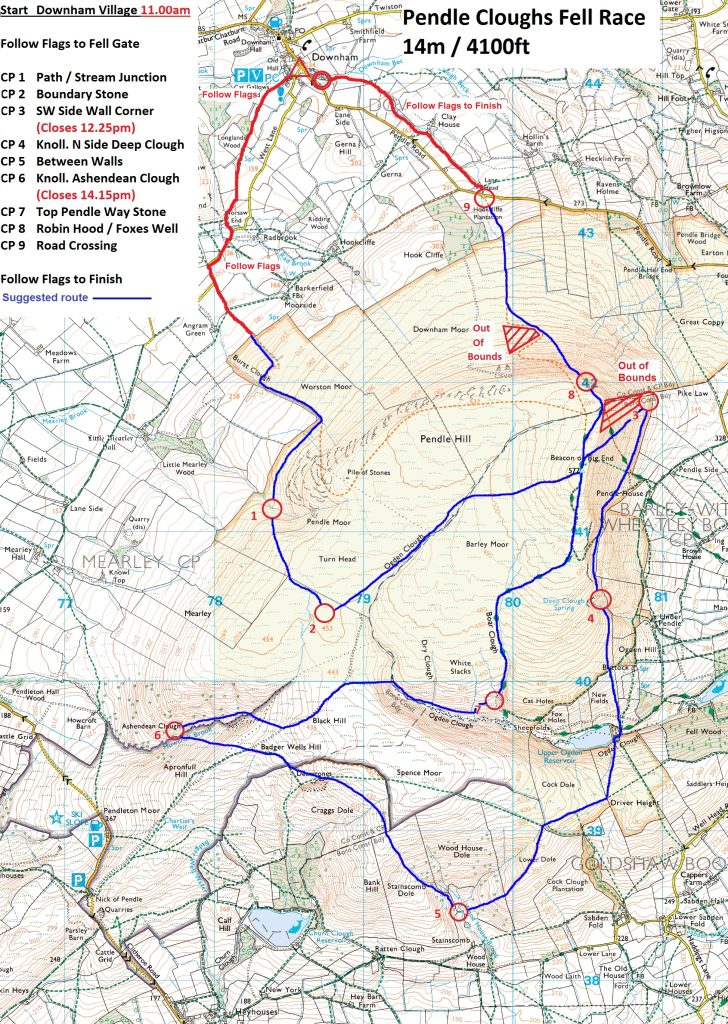 History
The race was inaugurated in 2008 and was designed to take in parts of the routes of two defunct fell races: the Downham Fell race from Downham; and the Five Cloughs Fell Race from Sabden.
The first race attracted just 44 runners, including no less than 21 from Clayton-le-Moors Harriers. The race has always been a fairly low-key affair and has not attracted too many runners, but as the course became more familiar to some runners it was Tom Brunt in 2012 (then of Holmfirth Harriers) who brought the winning time down to the current record of 2.04.20. Jean Brown (Clayton-le-Moors) holds the current ladies' record of 2.31.00 in 2013.
In 2017 Mark Nutter took over the organisation of the race with the aim to ensure its future success by increasing competitor numbers whilst working closely with the Downham Estate to ensure minimum impact on the village and surroundings.
The small village has a pub, an ice cream and coffee shop, and ducks in the stream to entertain the kids!